There are many ways you can support the work of Bridges. You could:
Volunteer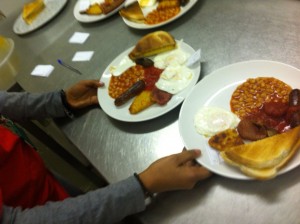 At Bridges, the vast majority of the work is carried out by people who volunteer their time for free. Without our volunteers, Bridges could not exist. On Saturdays, we need volunteers to cook breakfasts, wash dishes and utensils, take orders, engage with service users and to manage the whole process. On Monday's we need volunteers who can engage with service users through use of various skills- cooking, games, art, debates, sports- all skills and ideas are welcomed. We also need volunteers to take charge of the Monday shower and clothes service we offer.
If you have free time on a Saturday or Monday, and would like to get involved, please send an e-mail to info@bridgeshomelesssupport.org.uk expressing your interest, and we will reply back shortly.
Make a financial contribution
As a voluntary run organisation, all donations goes directly to the service user. You will be sponsoring our clients to have a hot breakfast within our warm and accommodating environment and supporting our group focused life skills and confidence building activities on Monday. To donate to Bridges, please send us an email to info@bridgeshomelesssupport.org.uk. We are thankful for any contribution that you are able to make.
Donate clothes, toiletries, food
Clothes, food, towels and toiletries are all needed and used by Bridges users. Send us a message of what you would like to bring and when, then just drop by on a Saturday or a Monday with your gift.