London is the TB capital of Europe, with Newham topping all boroughs in prevalence— a rate of 119 cases per 100,000 people (1).
At Bridges, we strive to partner with other organisations that can support our service users to access services they may find difficult to attend by themselves. It is why we are extremely grateful to host the NHS Mobile X-Ray Unit (MXU).
On Saturday 2nd August 2014 the MXU once again attended Bridges to provide tuberculosis screening to all our service users.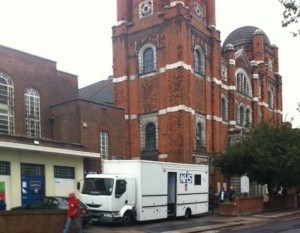 We had a number of Bridges service users queuing up to be screened:
Results of the scans are available within minutes, with suspicious scans given immediate referral into hospital: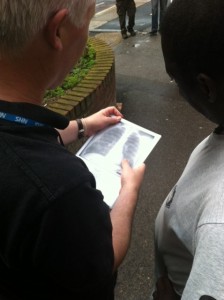 This is a vital service, 30 people were scanned today, thankfully all had no indication of the virus.  However in a previous screening one of our service users was diagnosed with a suspected TB infection.
For more information about MXU van, please read here: https://www.uclh.nhs.uk/OurServices/ServiceA-Z/HTD/Pages/MXU.aspx
To support Bridges work in helping the vulnerably housed/homeless people to identify and address their needs, please consider:
Donating: https://mydonate.bt.com/charities/bridges,
Volunteering: http://www.bridgeshomelesssupport.org.uk/get-involved/
And keeping us and the people we work with in your thoughts and prayers. 
(1) BBC News London, 2013. London Tuberculosis rates 'worst in western Europe'. Available from: http://www.bbc.co.uk/news/uk-england-london-23777685 [Accessed 2nd August 2014]